Glasgow Marrow and GU Macmillan Society are proud to present the sixth annual Ceilidh for Cancer, in aid of Anthony Nolan and Macmillan Cancer Support.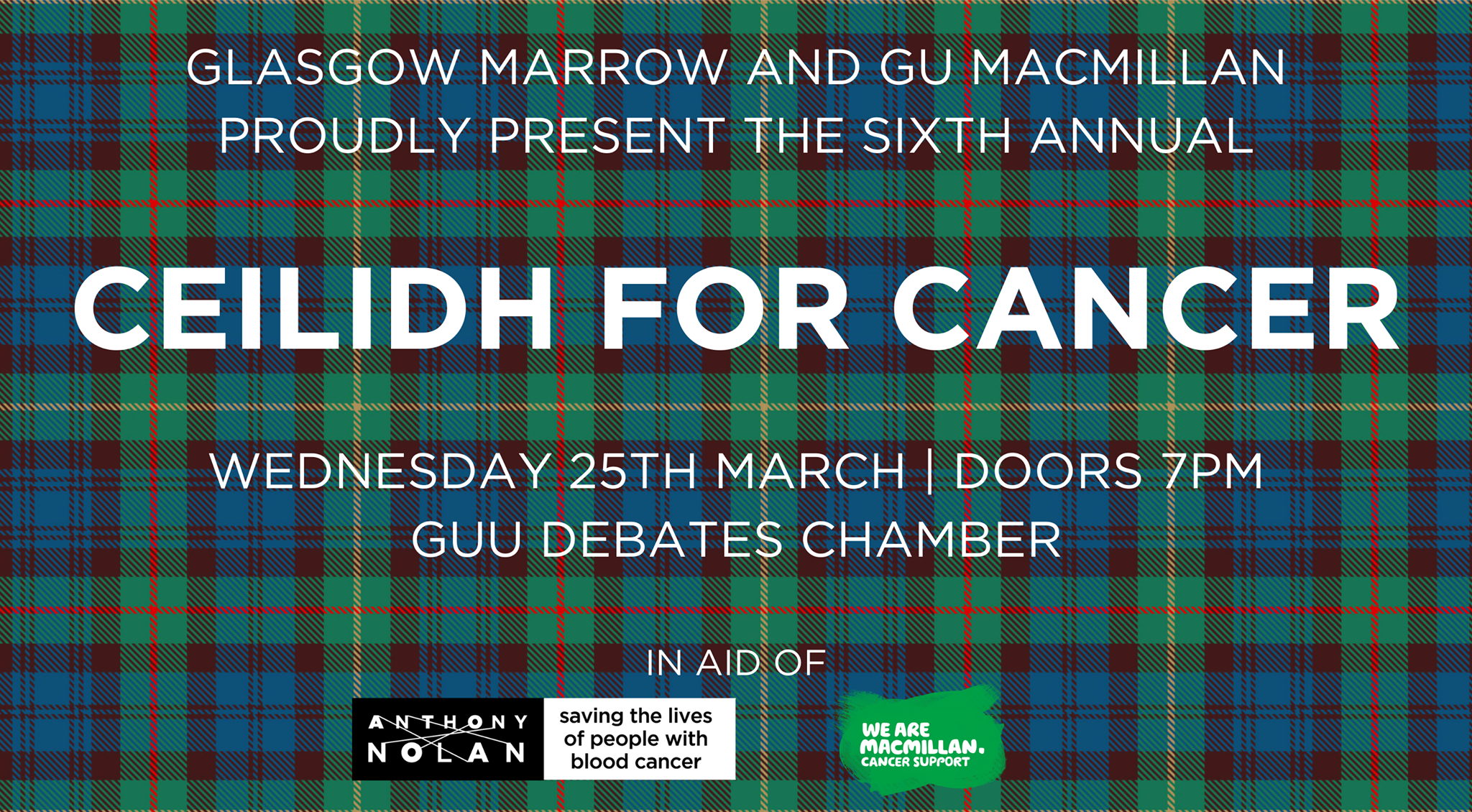 Anthony Nolan is the UK's largest stem cell register. Every day they match three selfless strangers to patients with blood cancer in need of a lifesaving stem cell or bone marrow transplant. They also carry out vital research to help improve patient care, and support patients and their families throughout the transplant process.
Macmillan Cancer Support is one of the UK's leading cancer charities. It supports patients from diagnosis and throughout their treatment. As well as helping with the medical needs of people affected by cancer, Macmillan also looks at the social, emotional and practical impact cancer can have, and campaigns for better cancer care. Macmillan Cancer Support's goal is to reach and improve the lives of everyone living with cancer in the UK.
On the 25th of March, join us in the Debates Chamber of the Glasgow University Union for an evening of live music and dancing to some Scottish classics. Never been to a ceilidh before? Don't worry, our amazing band will talk you through every step!
We will also be running a raffle on the night with some great prizes! So bring along a few extra quid for your chance to win, while supporting two lifesaving causes.
Tickets are £7 each online, or £8 each if purchased at the door (subject to availability). We recommend pre-booking your ticket online to avoid disappointment. Doors open at 7pm.
If you have any questions, please feel free to message Glasgow Marrow or GU Macmillan Society on Facebook or email us at glasgow@ukmarrow.org.
Order your ticket here!
Sales are currently closed.